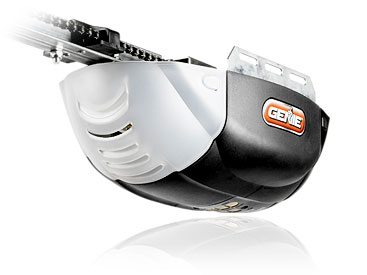 The ReliaG 600
The ReliaG 600  provides power, value and reliability for those who desire a powerful, quiet, long-lasting opener.
Belt or Chain Drive* 
½ HPc** DC motor
5 Year Motor Warranty †
(1) 75 watt bulb
Opening speed: 6.5 in/sec***
Special Features
A powerful ½ HPc** DC motor that offers quiet and smooth operation.
Operates residential sectional doors up to 350 lbs. and seven feet high.
Wall console and 3-button remote included.
Opening speed up to 6.5 inches/second with belt drive. Chain drive also available.
Soft start/stop means less wear and tear on the door system.
5-year limited motor warranty. †
Standard Features
Puts an invisible beam across the door opening. The door stops & reverses to open position if anything passes through the beam.
Superior encryption technology (also know as rolling codes) that prevents priracy of the radio signal that openers your garage door by continually seeking a new code from billions of combinations.
Home Automation System compatibility for convenience.
 
The new TriloG 1200
Belt or Chain Drive
 
The IntelliG 1000
Belt or Chain Drive
The ReliaG 850
Belt or Chain Drive
The ReliaG 800
Belt or Chain Drive
The ReliaG 600
Belt or Chain Drive