BROKEN SPRINGS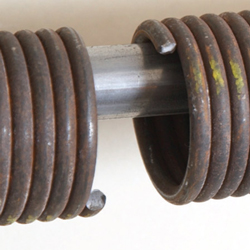 A spring replacement is one of most common repairs required on a garage door. These springs come in varying sizes and act as a balance, lifting most of the garage door weight (over 200 lbs). This allows the door to easily open and close manually or with the assistance of an automatic opener.Garage door Springs have a limited life span. The lifespan is measured in cycle with the door up and down counting as one cycle. Most common garage door springs com with 10,000 cycle life expectancy. Your spring replacement frequency will be determined by your garage door usage.
2 times daily=about 14 years
4 times daily=about 7 years
6 times daily=about 5 years
8 times daily- about 3 years

Out of Balance
– When Garage door stuck on something, the door lose the balance.
Result -> cable came out from Drum.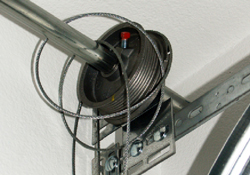 Result -> rollers came out from track.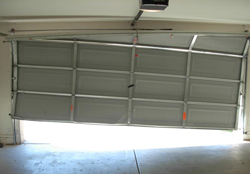 Repair Service We Provide
Major blend opener repair
Spring Replacement
Broken Cable replacement
Roller and Hinge Replacement
Bent Track
Weather Seal Replacement
Bent Section Replacement
Kims Overhead can repair virtually any manufacturer's door or opener. Our trucks typically carry the necessary repair or replacement parts. We also stock a complete line of new doors and openers in various sizes and colors. Please contact us by telephone or via the internet for your free replacement estimate.
Kims Overhead guarantees same day service.
We are very proud of our hard-earned reputation and look forward to helping you with all of your garage door.
CALL US TODAY FOR A FREE QUOTE:
1-800.410.8033
Kims Garage door is your local garage door spring replacement expert in Diamond Bar, CA.
We carry all major brand parts in work truck and provide same day service.
Your garage door opener not working? Find repair service to help fix that garage door opener from Kims Garage door. . Whether the remote is no longer working or the door won't open, we can help with any garage door repair. We can handle the needed repairs for your all your garage door.if you need a garage door replacement. Schedule your garage door opener repair appointment online or call us today. We cover all top brands like Liftmaster or Genie, no matter where you purchased them. Kims Garage Door Repair is a team of experienced Garage Door professionals in the San Gabriel Valley and in Diamond Bar ,CA. We specialize in Garage Door Repair, Garage Door Openers, Damaged Garage Tracks, Torsion Spring Repair, Garage Door Spring Replacement, Garage Door Motors, Garage Door Remotes, Garage Door Lights, and much more. Call us today and take advantage of a Professional Garage Door Repair Service in the San Gabriel Valley.
Garage Door Repair In Diamond Bar, CA